Micro Alignment Laser System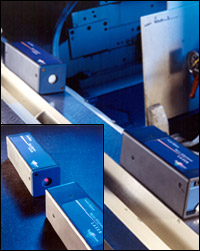 The Micro Alignment Laser alignment system offers versatility and accuracy to increase the range of applications offered by both the Micro Alignment Telescope and Autocollimator ranges offered by Taylor Hobson.
Ideal for dynamic measurement
Simple and compact design
Easy, icon-driven software
Digital output with clear graphical output and report writing facilities
Battery operated
With bluetooth wireless technology
Micro Alignment Laser is a laser measuring instrument equipped with the latest optical and electronic components for precise measuring of straightness, flatness, parallelism, perpendicularity, alignment and much more. It comprises a highly stable laser transmitter with integrated micro-adjustment for fine alignment of the laser beam, a high-precision position sensitive device (PSD) receiver with a complete electronic processing system and software for use on a laptop, notebook or desktop PC. The software provides users with comprehensive support for extensive geometrical measuring including recording of data in reports.
Technical Data
Receiver
Measuring Range (X/Y):
5x5mm
Measuring resolution:
0.1um
Linearity:
0.4‰
Reproducibility:
±0.25 um
Power supply:
7.2 V
Dimensions (L x B x H):
0.64 kg inc battery
System
Measuring distance:
0.1 - 15m
(Longer distances may be available upon request)
Software: straightness, parallelism, rectangularity, alignment (Windows, current PC technology)