4D InSpec ® Instant shopfloor 3D surface analysis of micro-defects
4D InSpec Surface Gauge is the first handheld, precision instrument for non-contact measurement of surface micro features and defects with micrometer-level resolution, taking the guesswork out of 3D micro-measurement. 4D Inspec quantifies pits, scratches, nicks, dents, bumps, porosity and other features from 5µm – 2.5mm deep or tall. Watch our short video to see how quantifying your surface defect measurements can save you money: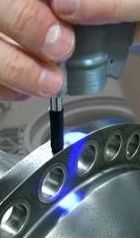 3D corrosion measurementHandheld for the shopfloor or in a workstation configuration, 4D InSpec takes instant, 3D surface images. The software then automatically locates surface defects and calculates height, volume, area, slopes and location.
Instant 3D surface measurement
8mmx8mm field of view (15mmx15mm with XL model)
Measures defects and features from 5µm – 2.5mm (9mm with XL model)
Easy measurement of complex geometries
Handheld, workstation or robotic operation
Using a patented camera technique, the 4D InSpec can measure a wide range of part geometries in the most challenging environments. The system can be handheld to access tight corners or to sample large items on the shopfloor.
An optional fold mirror accessory lets the system function like a borescope to access blind holes and inner diameters.