Surtronic 25 Surface Finish Tester - with Talyprofile Lite software
The Surtronic 25 has now been replaced with the new Surtronic S100 Series - Please view our new page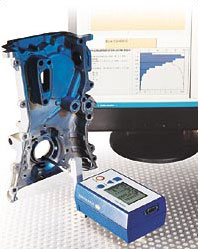 The Surtronic 25 portable & flexible Surface Finish Meter offers a large display, the simplest of menu structures and built-in memory capacity. The Surtronic can be used either freestanding (on horizontal, vertical or even inverted surfaces) or bench mounted with fixturing for batch surface roughness measurement and laboratory applications. (The Surtronic 25 replaces the older Taylor Hobson models Surtronic 3+ and Surtronic 3P).
Talyprofile Lite software is included as standard, offering advanced surface finish analysis*, automated templates, outstanding graphics and easy-to-use desktop publishing.
Surface Roughness Parameter options to suit your application
Fast measurement cycle
Intuitive menu structure
Unique stylus lift mechanism for total flexibility
Long traverse length and extended pick-up reach
Comprehensive range of accessory and pick-up options
Built-in storage - up to 100 sets of surface roughness measurement results
See the Surtronic 25 roughness instrument in action:
Technical Data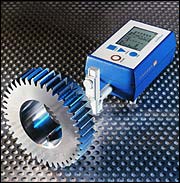 | | |
| --- | --- |
| Gauge range: | 300um (0.012in) |
| Accuracy: | 2% of reading + LSDum |
| Traverse Length: | 0.25-25mm (0.01-0.98in) |
| Roughness Parameters: | Ra, Rz, Rt, Rz1max, Rp, Rda, Rsm, Rpc, Rmr, Rsk * |
Surface Finish Parameters to suit your application:
The Surtronic 25 can calculate up to 10 surface finish parameters according to your measurement application:
Amplitude Parameters (measures the vertical characteristics of the surface deviations):
Ra (Arithmetic Mean Deviation, previously known as CLA or AA)
Rsk (Skewness)
Rz (Average peak to valley height)
Rt (Total height of profile)
Rp (Max profile peak height)
Rz1max (also known as Ry or Rmaz) (Max Peak to valley)
Spacing Parameters (measures the horizontal characteristics of the surface deviations):
RPc (peak count)
RSm (Mean width of profile elements)
Hybrid Parameters (combinations of spacing and amplitude parameters):
Rmr (Material ratio)
Rda - R Delta a (Arithmetic Mean Slope)
The above parameters cover the most common requirements to check lubrication, feed rates, stresses, friction and wear properties.
*Further surface finish parameters available with Talyprofile Lite software:
Roughness parameters obtained by filtering: Ra, Rq, Rt, Rp, Ry, Rku, Rsk, RSm, Rz, RΔq, RTp, RHTp, Rlo, Rλq, RPC, RzJIS, R3z.
Parameters on the raw profile (unfiltered): Pa, Pq, Pt, Pp, Pv, Pku, Psk, PSm, Pz, PΔq, Pλq, PTp, PHTp, PLo, PPc.
Additional parameters and analysis options are available by purchasing the Talyprofile Silver or Gold software packages.
We would be pleased to demonstrate the capabilities of the Surtronic by measuring a sample component for you – please e-mail us with details of your application.