News: Product News
7th September 2017
An easy way to view the full dimensional metrology range in one virtual showroom:
8th July 2021 • Read »
Peen marking/engraving for parts identification is a critical element in industries such as aviation, defence and medical
7th September 2020 • Read »
Shipbuilders around the world are currently facing the challenge of reducing their environmental impact. The alignment telescope is used for accurate alignment of engines, propeller shafting and stern tubes - reducing vibration and wear which cause fuel inefficiencies.
23rd April 2020 • Read »
Watch our short video to see how this handheld gauge and 3D analysis software measures chamfer, edge rounding and edge break at high speed.
16th April 2020 • Read »
Spectrum Metrology is pleased to introduce a ground-breaking handheld gauging system to the MRO Europe exhibition for rapid micro-defect/corrosion analysis directly on the shopfloor. The 4D INSPEC ® inspection gauge is a completely new method of reliably measuring micro-defects in 3D such as scratches nicks, pits, protrusions, radius of curvature of grooves, spheres and shafts – even rivet geometry.
8th August 2019 • Read »
A new Laser Tracker field test solution for all your trackers
Following NIST guidelines, the Brunson KinAiry is a comprehensive field test for all models of laser tracker, allowing fast, regular health checks of your laser tracker in the field.
Although there is no substitute for periodic calibration of your laser tracker at the manufacturers facility, it is also important to be confident that the tracker is operating within specification on the production floor. Comprehensive interim checks confirm instrument performance prior to critical measurements and allow users to monitor the laser trackers performance over time, ensuring that quality audit trails are maintained, particularly important when working to NADCAP and ISO accreditations.
The KinAiry consolidates various tracker specific processes into one comprehensive system check for any laser tracker model over a larger working volume than traditional methods. Using a 2.3 metre precision reference artefact, the dedicated software guides the tracker operator through NISTs new interim field test procedure* - a set of volumetric measurements specifically designed to expose a trackers unseen geometric misalignments. The result is a traceable, graphical analysis that quickly shows the overall health of your tracker.
* NIST's whitepaper (NISTIR 8016) proposes a procedure for interim field testing a laser tracker's 3-D length measurement capability using a calibrated scale bar as a reference artifact. The test is specifically designed to be sensitive to uncompensated errors in length measurement caused by imperfect geometry and misalignments in the laser tracker's construction. It is intended to be quick (less than 30 minutes) and easy to perform in the field.
For a copy of the NIST report and further information on the KinAiry please contact us.
The KinAiry will be also be on show at the forthcoming EPMC show, Europes largest conference and exhibition dedicated to portable metrology: www.epmc.events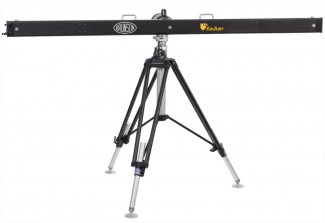 Laser tracker field tester uses a 2.3 meter bar for comprehensive volumetric tests