News: Product News
5th June 2015
Seminar: 3D micro-surface measurements of precision components, Wednesday 8th November 2023, 8.30am - 12.15pm
12th October 2023 • Read »
4D Technology in conjunction with Quantum Design are hosting a workshop 'Inteferometry for Metrology' at the OpTIC Technology Centre, Glyndwr University, St Asaph on 16 March 2023.
23rd January 2023 • Read »
Taylor Hobson measurement products have been used for many years in the nuclear industry for checking, measuring and monitoring alignment and level. Camera systems and motorised focus accessories allow the telescope to be operated remotely from the telescope.
13th September 2022 • Read »
An easy way to view the full dimensional metrology range in one virtual showroom:
8th July 2021 • Read »
Peen marking/engraving for parts identification is a critical element in industries such as aviation, defence and medical
7th September 2020 • Read »
New Software makes smooth work of machine tool slideway straightness measurements
With it's touch screen operation and icon driven menus, the new Electro Optics Analysis software from Taylor Hobson is making life easier for users of the Ultra Autocollimator for a range of machine tool measurement applications.
Among the large number of applications using the Ultra Autocollimator, the most common is the simultaneous two axis straightness measurement of machine tool slideways. The latest software used with the Taylor Hobson autocollimator offers significant time-savings when carrying out these measurements. The software is Icon driven which means that all measurement steps are shown as a clear pictorial display. Each stage of measurement is prompted by the software, which also indicates when any error of operation has occurred, making it simple for even inexperienced personnel to carry out measurements.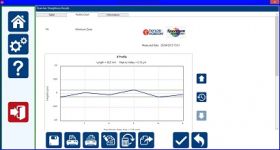 Measurements are automatically taken for both X and Y directions at each measuring position along the slideway. Typically a ten metre slide can be checked in just a few minutes - a considerable reduction in the amount of time taken compared with more conventional methods. With the addition of the Talyvel electronic level, twist or roll can also be measured.
The autocollimator is normally mounted directly onto the machine slideway using a bracket, rigidly bolted to the end of the slide. If this is not possible the autocollimator can be placed directly on the slide. When small slideways are to be measured and no attachment holes are available, the autocollimator can be mounted on a separate stand or tripod.
A reflector is used in conjunction with the autocollimator, mounted onto a carriage, specifically designed for dual axis measurement.
Up to 90 measuring steps can be taken for straightness checking and all steps must be of equal distance. The reflector carriage is moved along the slideway in equidistant steps. Any out-of-straightness in either of the two surfaces (side and top of the slide) will cause the carriage to change angle with respect to the autocollimator, and it is these changes which are measured and computed to determine the error in straightness. With the addition of an optical square, squareness and parallelism can also be checked.
The new software also allows the results to be presented in a variety of graphical and tabular forms and printed in the form of a certificate with a record of any additional measurement/environmental data.