News: General News
3rd February 2016
Explore New Dimensions at the National Space Centre: Spectrum Metrology will be hosting an Open Day this June in conjunction with Taylor Hobson and FARO. Register now ...
12th March 2019 • Read »
We are pleased to announce that the 4D InSpec XL surface defect gauge has won the 2019 Prism award in Test and Measurement. The award was presented to 4D Technology during the Photonics West 2019 expo by SPIE, the International Society for Optics and Photonics.
20th February 2019 • Read »
Autocollimators were used to align the optical components when the University of Leicester built the pioneering CompAQS scanner in collaboration with Surrey Satellite Technology and DL Optics Ltd
18th October 2018 • Read »
Spectrum Metrology invites visitors to the MACH exhibition to witness the optical clarity and precision of their latest digital projectors and video microscopes, manufactured by German designers Dr Schneider Messtechnik.
6th March 2018 • Read »
Shipbuilders and marine engineers Cammell Laird are using the Micro Alignment Telescope to assist with precise alignment of the ships propeller shafts to the marine engine during build of the Sir David Attenborough polar research vessel
26th January 2018 • Read »
New Measurement Technology at MACH, 11-15 April 2016
Spectrum Metrology looks forward to meeting you at the MACH exhibition this April where we will have a range of innovative measurement solutions to show you (stand 4392) …
The Taylor Hobson range of workshop surface finish measurement instruments will be at MACH, including the new Surtronic Duo roughness checker which uses familiar smartphone technology for improved performance and ease of use:
The Surtronic Duo roughness checker uses the latest Bluetooth technology for quick, reliable communication between the measurement head and its remote control - operators can place the measurement head on the section to be measured and take measurements from a distance at the press of a button.
Housed in a robust, rubberised moulding, the Surtronic Duo has an intuitive 3-button menu and a crisp 6cm colour LCD screen with graphical display. The Surtronic Duo uses the latest rechargeable battery technology and incorporates a USB mini port for fast charging. The unit is then stored in a handy canvas bag ready for use at a moment's notice.
(click here for more details and a demonstration video)
Spectrum Metrology will also be pleased to show you the inspection time savings using the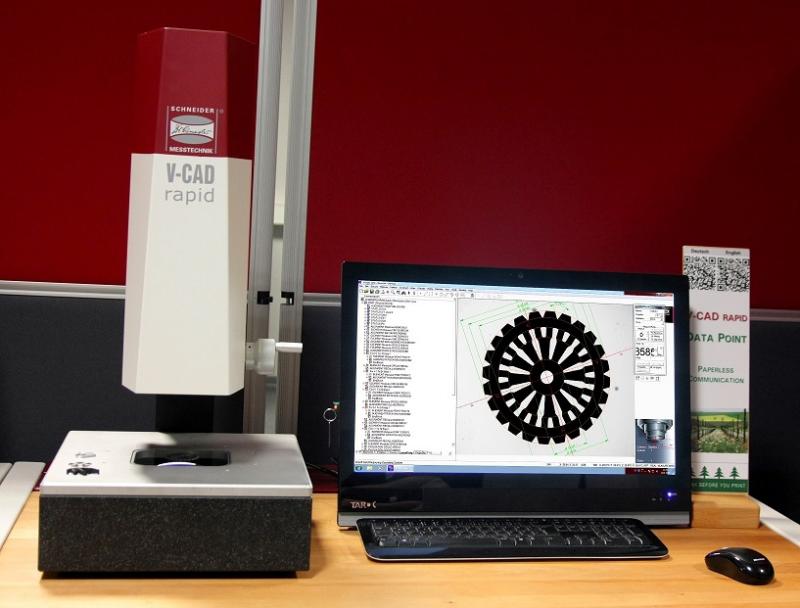 VideoCAD Rapid 2D precision geometry measurement VideoCAD Rapid precision geometry measurement station with intuitive Saphir software. With its high quality optics and ability to recognise groups of components in various orientations and combinations to make instant measurements, this dimensional measurement system is invaluable for anyone manufacturing large and varied batches of small components such as stampings and pressed metal parts.
(click here for more details and a demonstration video)
Visit the MACH website for free registration to the event