News: General News
3rd February 2016
An easy way to view the full dimensional metrology range in one virtual showroom:
8th July 2021 • Read »
Peen marking/engraving for parts identification is a critical element in industries such as aviation, defence and medical
7th September 2020 • Read »
Shipbuilders around the world are currently facing the challenge of reducing their environmental impact. The alignment telescope is used for accurate alignment of engines, propeller shafting and stern tubes - reducing vibration and wear which cause fuel inefficiencies.
23rd April 2020 • Read »
Watch our short video to see how this handheld gauge and 3D analysis software measures chamfer, edge rounding and edge break at high speed.
16th April 2020 • Read »
Spectrum Metrology is pleased to introduce a ground-breaking handheld gauging system to the MRO Europe exhibition for rapid micro-defect/corrosion analysis directly on the shopfloor. The 4D INSPEC ® inspection gauge is a completely new method of reliably measuring micro-defects in 3D such as scratches nicks, pits, protrusions, radius of curvature of grooves, spheres and shafts – even rivet geometry.
8th August 2019 • Read »
New Measurement Technology at MACH, 11-15 April 2016
Spectrum Metrology looks forward to meeting you at the MACH exhibition this April where we will have a range of innovative measurement solutions to show you (stand 4392) …
The Taylor Hobson range of workshop surface finish measurement instruments will be at MACH, including the new Surtronic Duo roughness checker which uses familiar smartphone technology for improved performance and ease of use:
The Surtronic Duo roughness checker uses the latest Bluetooth technology for quick, reliable communication between the measurement head and its remote control - operators can place the measurement head on the section to be measured and take measurements from a distance at the press of a button.
Housed in a robust, rubberised moulding, the Surtronic Duo has an intuitive 3-button menu and a crisp 6cm colour LCD screen with graphical display. The Surtronic Duo uses the latest rechargeable battery technology and incorporates a USB mini port for fast charging. The unit is then stored in a handy canvas bag ready for use at a moment's notice.
(click here for more details and a demonstration video)
Spectrum Metrology will also be pleased to show you the inspection time savings using the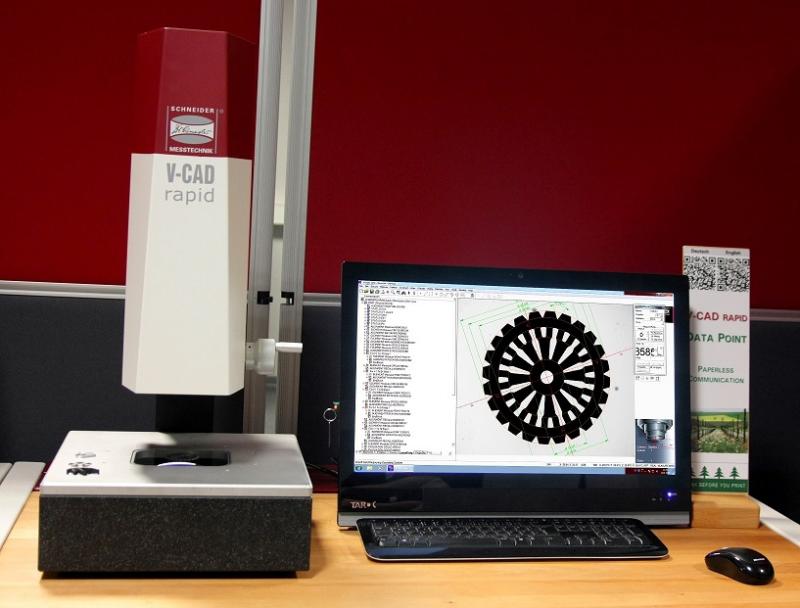 VideoCAD Rapid 2D precision geometry measurement VideoCAD Rapid precision geometry measurement station with intuitive Saphir software. With its high quality optics and ability to recognise groups of components in various orientations and combinations to make instant measurements, this dimensional measurement system is invaluable for anyone manufacturing large and varied batches of small components such as stampings and pressed metal parts.
(click here for more details and a demonstration video)
Visit the MACH website for free registration to the event